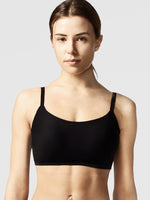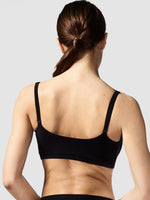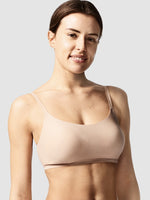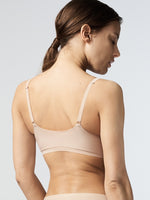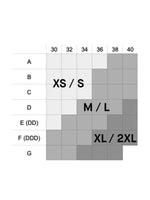 Soft Stretch Bralette
Regular Price

$82.00

Sale Price

$82.00

Regular Price

Unit Price

per
The ultimate foundation piece. The Scoop Padded Bralette from the award winning Soft Stretch Collection adds ease to everyday with high performance elasticity that is engineered to last. Wear alone or layered for a lightweight, luxe look.
Available in 3 sizes

X/S = A 30-36, BC 30-34, D 30-32, E 30
M/L = A 38-40, BC 36-40, D 34-38, E 32-36, F 30-34, G 30-32.
XL/XXL = D40, E 38-40, F 36-40, G 34-38.

Adaptable and easy fit for a variety of bust shapes
Fused padding stays in place throughout the day with no rolling, shifting or adjusting
Quick Drying
Lightweight and smooth fabric
Moisture Wicking
Fully adjustable straps
Designed in France.

Over 90% of our corsetry products are made in our own factories and are designed with quality in mind.

We believe investing in the right bra that you can wear 50+ times is better than buying a few cheaper bras that fall apart quickly in the wash.

We'd recommend the following care tips to maximize the longevity of your bra and minimize environmental impact.

WEAR


Avoid wearing your bra more than twice between washings.
Don't wear your bra two consecutive days. Elastic needs to recover after a day of wear.
Have a minimum of three basic bras: one to wear, one to wash and one to spare.
Have a minimum of two matching panties to a bra.

 


WASH


Hand washing your garment using a delicate detergent is the best way to maintain the fit, shape and fabric of the produc
Harsh detergents and bleaches can destroy elastic and lace. Handwashing will also increase the lifespan of the product.
Rinse garment in cold water.
If handwashing is not an option, and you choose to machine wash, do so with a delicate detergent and a lingerie wash bag with the machine on a delicate / gentle cycle.
However you choose to wash, always air dry the garment. Heat can destroy both fibers and elastics.
If washing a bra, do not twist to remove excess water.

 


STORE


Carefully fold your bra to prevent snagging or crushing.

 


TRAVEL


Use a lingerie travel bag to keep your bras together. Don't forget to fasten the hooks to prevent snagging.
Place socks, panties or hosiery in the cups of padded bras to prevent cup crushing.
Use a lingerie travel bag to keep your panties together.
We Recommend Hand Washing
Use delicate washing powder or liquid, don't add softener or bleach

Soak bras for 3-5 minutes in cold water (max. 30°), and rinse

Gently press to squeeze out water, do not wring or twist

Avoid folding moulded cups, padded, or t-shirt bras

Lay flat on rack or towel to air dry
But if you must machine wash:
Attach back hooks together to avoid snagging

Use a bra bather or washbag on cool, gentle cycle (max. 30°)

Wash bras of a similar colour and fabric together

Remove promptly and lay flat on a rack or towel to air dry

No tumble dry! (It makes us cry)
The first step is to put your bra on properly.
Place your arms through the straps and position the straps on your shoulders.

Lean forward and let your breasts naturally fall into the cups.

Fasten the hook at the position that is most comfortable preferably in the middle hook position. This will allow you room to loosen and/or tighten the band slightly with minor weight fluctuations.

 

Position and adjust the back panel by pulling the back panel downwards until the back of your bra is level with the front. Your nipple should sit halfway between your shoulder and elbow.
Then, follow our four-step process to find the bra that fits you right and feels fantastic. You know your bra is fitting you properly when:
The back panel of the bra is level with the front, and doesn't ride up above the clasps.

The cups hold the breasts fully, with no extra space and a smooth transition between the cup and your breast.

The piece between the breasts lays flat against your chest, holding your bra snugly in place.

(Not against the breasts. If the front piece does not sit snugly against your rib cage try a smaller band size. If the front or back clasps are pinching, try a larger band size.

Adjust the straps so that they sit snugly on your shoulder, neither so tight that they pinch or mark your flesh nor so loose that they slide off the shoulder.